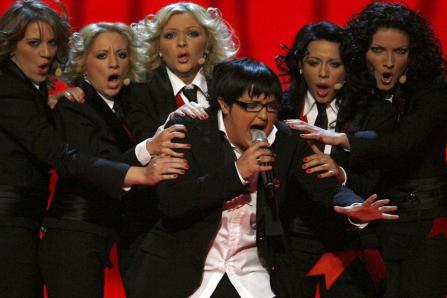 Eurovision song contest history
Brief history of Eurovision song contest
European TV sky was very colorful. As political situation. Aware of the situation, European countries started to create standardization. The light on the end of that dark tunnel was Eurovision.

On EBU meeting in Monte Carlo 1955. Marcel Bezençon (president of the EBU Programme Committee) for the first time presented the idea about competition for the best Eurovision song based upon San Remo music festival in Italy. This competition was also seen as technological experiment in live broadcast. In those days, joining so many independent networks was very ambicious project. Final decision about Eurovision Song Contest was made 19.10.1955. on meeting in Rome, when EBU general assembly agreed to organizing it next spring in Lugano.

Eurovision Song Contest is annual competition between active EBU members. Every country delegates one song perfoming it in live broadcast and EBU casts votes from all countries determinig the winner. Each country takes part in the competition through it's national broadcaster (member of EBU), whose task it is to select a singer and a song to represent their country in the international competition.
Winners of the Eurosong
| | | | |
| --- | --- | --- | --- |
| 1956 | Switzerland | Lys Assia | Refrain |
| 1957 | Netherlands | Corry Brokken | Net Als Toen |
| 1958 | France | André Claveau | Dors, Mon Amour |
| 1959 | Netherlands | Teddy Scholten | Een Beetje |
| 1960 | France | Jacqueline Boyer | Tom Pillibi |
| 1961 | Luxembourg | Jean-Claude Pascal | Nous Les Amoureux |
| 1962 | France | Isabelle Aubret | Un Premier Amour |
| 1963 | Denmark | Grethe & Jorgen Ingmann | Dansevise |
| 1964 | Italy | Gigliola Cinquetti | Non Ho L'eta |
| 1965 | Luxembourg | France Gall | Poupé De Cire, Poupée De Son |
| 1966 | Austria | Udo Jürgens | Merci Chérie |
| 1967 | United Kingdom | Sandie Shaw | Puppet On A String |
| 1968 | Spain | Massiel | La La La |
| 1969 | France | Frida Boccara | Un Jour, Un Enfant |
| 1969 | Netherlands | Lenny Kuhr | De Troubadour |
| 1969 | Spain | Salomé | Vivo Cantando |
| 1969 | United Kingdom | Lulu | Boom Bang-a-bang |
| 1970 | Ireland | Dana | All Kinds Of Everything |
| 1971 | Monaco | Séverine | Un Banc, Un Arbre, Une Rue |
| 1972 | Luxembourg | Vicky Leandros | Apres Toi |
| 1973 | Luxembourg | Anne-Marie David | Tu Te Reconnaîtras |
| 1974 | Sweden | Abba | Waterloo |
| 1975 | Netherlands | Teach-In | Ding-a-dong |
| 1976 | United Kingdom | Brotherhood of Man | Save Your Kisses For Me |
| 1977 | France | Marie Myriam | L'oiseau Et L'enfant |
| | | | |
| --- | --- | --- | --- |
| 1978 | Israel | Izhar Cohen & the Alphabeta / יזהר כהן | A-ba-ni-bi / אבניבי |
| 1979 | Israel | Milk & Honey / גלי עטרי וחלב ודבש | Hallelujah / הללויה |
| 1980 | Ireland | Johnny Logan | What's Another Year? |
| 1981 | United Kingdom | Bucks Fizz | Making Your Mind Up |
| 1982 | Germany | Nicole | Ein Bisschen Frieden |
| 1983 | Luxembourg | Corinne Hermes | Si La Vie Est Cadeau |
| 1984 | Sweden | Herrey's | Diggi-loo Diggi-ley |
| 1985 | Norway | Bobbysocks | La Det Swinge |
| 1986 | Belgium | Sandra Kim | J'aime La Vie |
| 1987 | Ireland | Johnny Logan | Hold Me Now |
| 1988 | Switzerland | Céline Dion | Ne Partez Pas Sans Moi |
| 1989 | Yugoslavia | Riva | Rock Me |
| 1990 | Italy | Toto Cotugno | Insieme 1992 |
| 1991 | Sweden | Carola | Fangad Av En Stormvind |
| 1992 | Ireland | Linda Martin | Why Me? |
| 1993 | Ireland | Niamh Kavanagh | In Your Eyes |
| 1994 | Ireland | Paul Harrington & Charlie McGettigan | Rock 'n' Roll Kids |
| 1995 | Norway | Secret Garden | Nocturne |
| 1996 | Ireland | Eimear Quinn | The Voice |
| 1997 | United Kingdom | Katrina & the Waves | Love Shine A Light |
| 1998 | Israel | Dana International / דנה אינטרנשיונל | Diva / דיווה |
| 1999 | Sweden | Charlotte Nilsson | Take Me To Your Heaven |
| 2000 | Denmark | Olsen Brothers | Fly On The Wings Of Love |
| 2001 | Estonia | Tanel Padar, Dave Benton & 2XL | Everybody |
| 2002 | Latvia | Marie N | I Wanna |
| | | | |
| --- | --- | --- | --- |
| 2003 | Turkey | Sertab Erener | Everyway That I Can |
| 2004 | Ukraine | Ruslana / Руслана Лижичко | Wild Dances |
| 2005 | Greece | Helena Paparizou / Ελενα Παπαρίζου | My Number One |
| 2006 | Finland | Lordi | Hard Rock Hallelujah |
| 2007 | Serbia | Marija Šerifović | Molitva |
| 2008 | ????? | ?? ?? | ??????? |