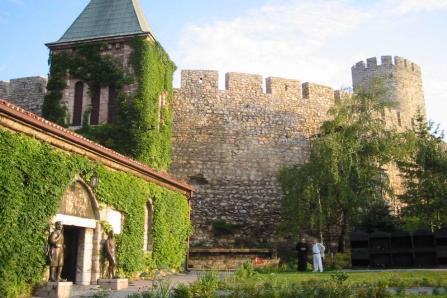 Fly to Belgrade

Belgrade is serviced by Nikola Telsa International Airport (BEG), about 12 kilometers west of the city center, and is the home base of Jat Airways – Serbia's flag carrier airline – which flies to nearly 40 destinations worldwide. Other major airlines fly to Belgrade, such as Air France, British Airways and Lufthansa. Discount and no-frills carriers such as Ryanair, EasyJet and Wizz, however, have yet to make their entrance in the Serbian market, which makes the cost of flying to and from the city a bit higher than other destinations, although Germanwings does have a number of less expensive flights to Germany and Norwegian Air is another low cost airline operating to Belgrade.
There are shuttle busses to the city center from the airport, operated by both Jat and Lasta. These will pick up and drop off passengers at the Hotel Slavija (Jat) and the central train station (Lasta). The fares are about 160 RSD for the Jat shuttle, and 80 RSD for the Lasta bus.
Flights to Belgrade
Train to Belgrade

The Central Train station is located, not surprisingly, in the city center. Most national and international trains stop here.
There are several international train connections from Budapest-Vienna and Zagreb-Ljubljana-Munich-Zurich, Normally, trains should not be too late (seldom more than 1 hour), and usually safe. Expect the overnight train from/to Budapest to be overcrowded in summer.
There are also direct (day and night) trains from Kiev, Moscow, Skopje, Thessaloniki and Sofia and an overnight train from Bar, Montenegro to Belgrade. It arrives early in the morning (around 7). This is a reasonably comfortable train with sleeper cars and nice views (even at night). Upgrade to the cabins with two beds only for 100% improvement. Prices are pretty reasonable.
Main train station address: Savski trg 2, Call-centrum: 011 / 360-2899 (nonstop)

Belgrade by car

Be sure your Green Card has an uncancelled "YU" or "SCG" box.
Coming north from Subotica and Novi Sad, the E-75 motorway is recommended, as well as driving to Belgrade from the south. There is also a major road called Ibarska magistrala, which provides approach from south-west. From the west, use the E-70 motorway. Major roads can be used coming east and north-east from Vršac and Zrenjanin.
Motorways have toll stations, which are moderately priced. As of summer 2007, there is major roadwork on the E-75 motorway north, so expect occasional delays.
Price of gas in Serbia:
here
Highway tolls in Serbia